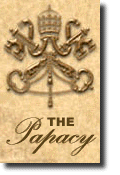 The Papacy:
Its History, Dogmas, Genius, and Prospects
by Rev. J.A. Wylie, LL.D.
Many thanks to John Clouse of Hope Presbyterian Church for scanning and preparing the material on this page.

Click here if you wish to see more online pamphlets from the web page of the Free Presbyterian Church.
Preface:
Preface to People's Edition.
Book One: The History of the Papacy

Book Two: Dogmas of the Papacy

Book Three: The Genius and Influence of the Papacy

Book Four: Present Policy and Prospects of the Papacy

Appendix:
Britain--Maynooth--Universal Toleration.